Culture of Animal Cells: A Manual of Basic Technique, 5th Edition
Culture of Animal Cells: A Manual of Basic Technique, 5th Edition Publisher: Wiley-Liss | 2005 | PDF | 696 pages | ISBN: 0471453293 | 8.1Mb
The most complete resource on the techniques, equipment,principles, and practices of animal cell culture Since publication of the previous edition of this benchmark text, numerous groundbreaking advances have occurred in stem cell research, cloning, tissue engineering, and in vitro toxicity testing. These and other developments have been incorporated into this fully revised and expanded Fifth Edition of Culture of Animal Cells. In addition, to answer the needs of the exponential increase in newcomers to cell culture, particularly in the biopharmaceutical industry, a completely new chapter on training in cell culture technology has been introduced.
The most complete resource on the techniques, equipment, principles, and practices of animal cell culture, this text offers a complete background related
to growth of animal cells in culture. Beginning with laboratory design, safety, validation and bioethics, then continuing with preparation of media, primary culture and cell lines, through to characterization and authentication, contamination, specialized techniques, and troubleshooting, the coverage includes:
* An all-new section of training exercises, separated into basic, intermediate, and advanced procedures, cross-referenced to the relevant protocols
* New coverage of stem cells, bioethics, validation, cloning, cell signaling, in vitro toxicity testing, and tissue engineering
* An expanded full-color atlas section, with images of primary culture, cell lines, subculture, differentiation, cancer cells and transformation, three-dimensional culture, contamination, and specialized equipment * Enhanced treatment of troubleshooting, with full cross-referencing to the relevant protocols and sections of text
* Fully updated references
* The clearest, most consistent presentation of step-by-step protocols available
* Numerous diagrams, photographs, tables, and charts
* Detailed and up-to-date information on reagent preparation and sourcing of materials and equipment, including a fully updated list of suppliers and other resources with Web sites Indispensable for clinical and biopharmaceutical researchers and scientists, students, trainees, and technicians, this landmark text presents the most accessible and comprehensive introduction available to the culture and experimental manipulation of animal cells.
Click Here To Download
Or
Click Here To Download
Animal Cell Culture: A Practical Approach
This new edition of Animal Cell Culture covers new or updated chapters on cell authentication, serum-free culture, apoptosis assays, FISH, genetic modification, scale-up, stem cell assays, 3-dimensional culture, tissue engineering and cytotoxicity assays. Detailed protocols for a wide variety of methods provide the core of each chapter, making new methodology easily accessible. Everyone working in biological and medical research, whether in academia or a commercial organization, practicing cell culture will benefit greatly from this book.
Click Here To Download
Or
Click Here To Download
Animal Cell Biotechnology:Methods and protocols by Nigel Jen
Book Description:
Scientists with long-refined expertise describe cutting-edge techniques for the production of therapeutic proteins and vaccines. Capturing the major advances that have occurred in both the science and the technology of these biopharmaceuticals, this important book covers the powerful new techniques used in genetically manipulating animal cells, optimizing their growth in defined media (particularly at large-scale), avoiding contamination, and in the harvesting and analysis of cell products. Topics include basic culture facilities and methods; molecular methods for gene transfection, cell immortalization and cell fusion; and techniques for the study of cell growth, viability, metabolism, and productivity. Animal Cell Biotechnology constitutes a comprehensive manual of state-of-the-art techniques for setting up a cell culture laboratory, maintaining cell lines, and optimizing critical parameters for cell culture.
Click Here To Download
Animal Cell Biotechnology:Methods and protocols



Content:
PART I. BASIC TECHNIQUES FOR ESTABLISHING PRODUCTION CELL LINES
1.- Transduction Technologies
2.- Cells for Gene Therapy and Vector Production
3.- Technology and Production of Murine Monoclonal and Recombinant Antibodies and Antibody Fragments
4.- DNA Fingerprinting and Characterization of Animal Cell Lines
PART II. BASIC CULTIVATION TECHNIQUES
5.- Microcarrier Cell Culture Technology
6.- Cell Encapsulation
7.- Tools for High-Throughput Medium and Process Optim
ization
PART III. CELL CHARACTERIZATION AND ANALYSIS
8.- Cell Counting and Viability Measurements
9.- Monitoring of Growth, Physiology, and Productivity of Animal Cells by Flow Cytometry
10.- Nuclear Magnetic Resonance Methods for Monitoring Cell Growth and Metabolism in Intensive Bioreactors
11.- Methods for Off-Line Analysis of Nutrients and Products in Mammalian Cell Culture
12.- Application of Stoichiometric and Kinetic Analyses to Characterize Cell Growth and Product Formation
13.- Measurement of Apoptosis in Cell Culture
14.- Metabolic Flux Estimation in Mammalian Cell Cultures
PART IV. SPECIAL CULTIVATION TECHNIQUES
15.- Disposable Bioreactors for Inoculum Production and Protein Expressi
on
16.- Hollow Fiber Cell Culture
17.- Cultivation of Mammalian Cells in Fixed-Bed Reactors
18.- Configuration of Bioreactors
PART V. DOWNSTREAM TECHNIQUES
19.- Membrane Filtration in Animal Cell Culture
20.- Chromatographic Techniques in the Downstream Processing of (Recombinant) Proteins
PART VI. SPECIAL APPLICATIONS
21.- Vaccine Production: State of The Art and Future Needs in Upstream Processing
22.- Retrovirus Production and Characterization
23.- Insect Cell Cultivation and Generation of Recombinant Baculovirus Particles for Recombinant Protein Production
Click Here To Download
Or
Click Here To Download
Animal Cell Culture and Technology : The Basics (Basics (Oxford, England)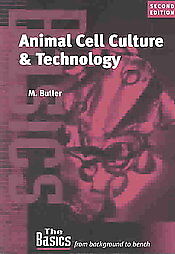 The Basics series provides the ideal introduction to new techniques in the laboratory. This series of books will allow you to use the techniques described, and to manipulate them to suit your own basic requirements.

This book describes the basic requirements for establishing and maintaining cell cultures both in the laboratory and in large-scale operations. Minimal background knowledge of the subject is assumed and therefore it will be a readable introduction to animal cell culture for scientists intending to initiate some work in this field.
New topics are included to reflect the latest developments and trends in the field. They cover the latest theory of the biological clock (teleomeres) of cell lines, the development of improved serum-free media formulations, the increased understanding of the importance and control of protein glycosylation and the humanization of antibodies for therapeutic use.
Click Here To Download
or
Click Here To Download
Animal Cells as Bioreactors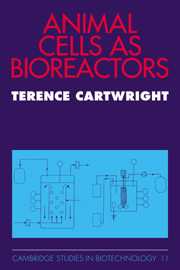 This book covers all aspects of the new technologies needed to turn animal cells into an acceptable and cost-effective tool for drug production. This includes modifying them genetically so that they produce the right product in high yield, getting them to grow reproducibly on an industrial scale, and extracting the required product from them. It also covers biological safety issues, and the verification of the chemical and biological nature of the protein drug produced. The work covers the latest developments in all of these areas and how they all need to be integrated for the design of an effective biotechnological production process.
• Part of accessible Cambridge Studies in Biotechnology Series • Clear and concise presentation • Worldwide appeal
Contents
1. Introducing the animal cell as a bioreactor; 2. Yield of recombinant product: engineering cells for maximum expression; 3. The generation of biomass, medium design for animal cell culture, fermenter design for animal cell culture
, suspension cultures, immobilized cells, process control; 4. Adjusting cellular metabolism for optimum product yield; 5. Downstream processing; 6. Regulatory aspects of using cells as bioreactors, viral contamination of animal cell derived pharmaceuticals; 7. Overview and conclusions; References; Index.
Review
Review of the hardback: '… provides a useful reference work for all budding biotechnologists.' Wendie Norris, British Society for Development Biology Newsletter
Click Here To Download
or
Click Here To Download
Cell and Tissue Culture: Laboratory Procedures
Wiley | December 16, 1998 | ISBN-10: 0471982555 | 352 pages | PDF | 39.56 mb
Cell and Tissue Culture: Laboratory Procedures in Biotechnology Edited by Alan Doyle Centre for Applied Microbiology & Research, Porton Down, Salisbury, UK. and J. Bryan Griffiths Scientific Consultancy & Publishing, Porton, Salisbury, UK. Cell and Tissue Culture: Laboratory Procedures in Biotechnology introduces the reader to animal cell culture methods describing the key cells, core techniques, how to scale up the culture for commercial production, and regulatory aspects. This book provides easy to follow, step-by-step protocols, with trouble-shooting tips and notes on time considerations. Alternative procedures, background information and references supplement the main procedures described. Other f
eatures include:
* Experimental examples to indicate expected results;
* Quick reference symbols such as safety icons with warning notes; and,
* A list of suppliers is provided to allow easy access to laboratory products.
Written by a team of international scientists, Cell and Tissue Culture: Laboratory Procedures in Biotechnology will be of interest to researchers, technicians and process engineers using cell culture within the biotechnology, biomedicine and pharmaceutical industries.
Click Here To Download
or
Click Here To Download
Animal Cell Culture Techniques (Springer Lab Manual)
by Clynes M. "Animal Cell Culture Techniques (Springer Lab Manual)"
Springer-Verlag Telos | Pages: 618 | 1998-08 | ISBN: 3540630082 | Djvu | 4 Mb
Book Description:
Cell culture techniques allow a variety of molecular and cell biological questions to be addressed, offering physiological conditions whilst avoiding the use of laboratory animals. In addition to basic techniques, a wide range of specialised practical protocols covering the following areas are included: cell proliferation and death, in-vitro models for cell differentiation, in-vitro models for toxicology and pharmacology, industrial application of animal cell culture, genetic manipulation and analysis of human and animal cells in culture.
Click Here To Download
Or
Click Here To Download
Leda Castilho, "
Animal Cell Technology: From Biopharmaceuticals to Gene Therapy
"
Taylor & Francis | 2008 | ISBN: 041542304X | 506 pages | PDF | 5,9 MB
In vitro culture of animal cells originated towards the end of the nineteenth century as a collection of experimental procedures used to isolate and maintain viable cells from organs of diverse animals, at least for a few days. From these modest origins, and throughout a little more than 100 years, animal cell culture has evolved into a modern technology based on scienti?c and engineering principles. As a result of such developments, animal cell culture is nowadays used successfully for the production of vaccines and recombinant glycoproteins. In addition, applications of animal cell culture now underpin new and fascinating ?elds, such as organ transplants, cell and gene therapy, in vitro toxicology and physiology, tissue analogs, production of biopesticides, bioelectromechanical devices, and nanobiotechnology. Interestingly, of the more than 500 biopharmaceutical products that are being evaluated in clinical trials, about half are produced by animal cell culture. Such facts underline the importance of this technology. Furthermore, the products derived from animal cells have an annual market of more than ten thousand million dollars with impressive growth rates. Nonetheless, far more important than their economic value is the impact that such products have made on human health, increasing the quality of life.
Click Here To Download